Storm Cleanup Information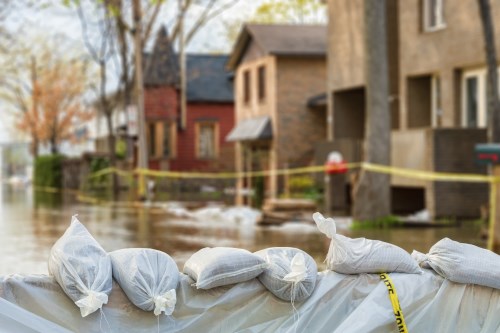 Resources for affected individuals
Key steps to returning to a flooded home
Ensure the Evacuation Order has been lifted and you can safely return home
Check your home for any hazards or structural damage.
Look above for any tree or electrical hazards.
Check for any gas leaks.
If you have standing water in your home and can turn off the main power from a dry location - do so. If you cannot access safely, contact an electrician.
Ensure your home has not been red-tagged.
Do not enter your home until you determine it is safe.
3. Wear protective clothing
4. Document damages and contact your insurance company.
5. Dry out your home as quickly as possible to reduce mold. Monitor moisture levels.
6. Throw away unsafe food. Do not drink water until it is determined safe.
7. Remove debris.
8. Remove damaged drywall and flooring.
9. Assess submerged appliances.
Appliances that have been submerged should be assessed by a professional before using. Their components may be damaged and corroded.
Flood clean up & recovery resources
The US Environmental Protection Agency has provided step by step instructions for returning home after a flood.
American Red Cross Recovery & Disaster Cleanup Tips
SLO County Planning and Building
Homes with Asbestos Clean Up Information
The Contractors State License Board (CSLB)
As a consumer protection agency, and in its role regulating California's construction industry, CSLB is responsible for protecting those whose homes and property are directly affected by storms and floods, as well as other catastrophic events like wildfires, mudflows, earthquakes, and pipeline explosions. CSLB's post-disaster mission is to help ensure that survivors are not victimized by unlicensed or unscrupulous contractors who may try to take advantage of them during the recovery and rebuilding process. It is a felony to contract without a license in a declared disaster area.
Consumers can protect themselves by using CSLB's resources to check a contractor's license status and history.
Information on Red, Yellow, and Green Tags
Rapid Evaluation Safety Assessment (RESA) is an important step in assessing the damage and safety concerns of structures after a natural disaster. County Planning and Building staff are currently conducting these safety evaluations of homes affected by the recent flooding.
Red Tag: Unsafe.
Building is damaged and poses an imminent threat to life or safety under expected loads or other unsafe conditions. No access to the structure is permitted.
Repairs must be made, and a permit is required.
Yellow Tag: Restricted Use.
There is some risk from damage in all or part of the building that does not warrant a red tag. The extent of damage may be uncertain or cannot be ascertained within the time and resources available to a Rapid Evaluation team.
Repairs must be made, and a permit is required based on work neccessary.
Green Tag: Inspected.
Building can be damaged, yet remains safe. The safety of the building was not signifcantly changed by the disaster.
County Planning Rapid Assessment Information
Immediate recovery resources
Long term recovery resources
Resources for Agencies and Businesses
Reopening your food establishment after flooding
Apply for Small Business Administration Loans
Onsite Wastewater Treatment Systems / Septic Systems After a Flood
Red Cross Recovery Resources for San Luis Obispo - English
Red Cross Recovery Resources for San Luis Obispo - Spanish
City Specific Recovery Information
The County Office of Emergency Services (OES)
1055 Monterey Street D430
San Luis Obispo, CA 93408
County OES Business Line: 805-781-5678
County OES Business Email: oes@co.slo.ca.us