Quick Glance: COVID-19 Vaccines at SLO Public Health
These stats will be updated weekly
| | |
| --- | --- |
| First doses sent to SLO County Public Health | 9,925 |
| People vaccinated by SLO County SLO County Public Health | 6,266 |
A safe and effective COVID-19 vaccine is one of the most important tools we have to end the COVID-19 pandemic. We encourage all SLO County residents to learn more about the vaccine, stay informed, and get the vaccine when it's your turn – to protect yourself and help end the pandemic. Find the latest local information about the vaccine and what it means for all of us in SLO County.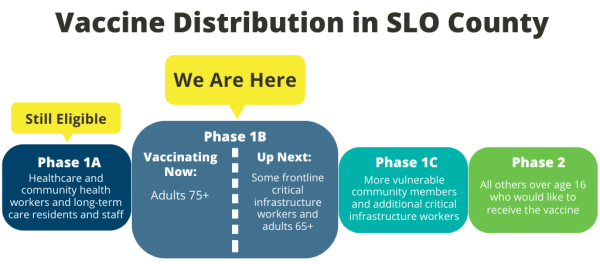 Based on current vaccine supply and risk of serious outcomes from COVID-19, adults 75 years and older can get a COVID-19 vaccination by appointment only at one of three clinics in SLO County in SLO County as of Monday, Jan. 18, 2021.
Due to limited vaccine supply, the vaccine clinics in San Luis Obispo, Paso Robles and Arroyo Grande currently have a limited number of appointments available each day. Prioritizing vaccination appointments to residents 75 years and older will help prevent serious health outcomes among some of our most vulnerable community members.
While only those age 75 and older will be the first group in Phase 1b of the County's vaccine distribution plan, anyone between the ages of 65 and 74 will be in the second tier of Phase 1b vaccinations. SLO County is home to over 26,000 residents 75 years and older, but currently only has enough vaccine supply to vaccinate roughly 4,000 people each week. Find out more about when and where the vaccine is being distributed
Health care workers under Phase 1a are still eligible to be vaccinated and can continue making appointments. Nearly 11,000 people in Phase 1a have been vaccinated locally. Make a vaccination appointment now.
Office of Emergency Services
1055 Monterey Street D430
San Luis Obispo, CA 93408
Telephone: 805-543-2444
Email: oes@co.slo.ca.us